<!FIRST ROW> <!NEWS0>
CAST
Bette Midler, Bill Hader, Charlize Theron, Chloë Grace Moretz, Javon "Wanna" Walton, Nick Kroll, Oscar Isaac, Snoop Dogg, Wallace Shawn
Distributed by&: Metro-Goldwyn-Mayer
EXECUTIVE PRODUCERS: Kevin Miserocchi, Jonathan Glickman, Cassidy Lange, Andrew Mittman, Aaron L. Gilbert, and Jason Cloth
PRODUCERS: Gail Berman, Conrad Vernon, Danielle Sterling, and Alison O'Brien
DIRECTED BY: Greg Tiernan, Conrad Vernon
Collectibles
Department 56 Addams Family Village



It was 1938 when the Charles Addams cartoon depicting a quirky group, The Addams Family, first appeared in The New Yorker. In his words, "A closely knit family, the real head being Morticia – although each of the others is a definite character… Gomez and Pugsley are enthusiastic. Morticia is even in disposition, muted, witty, sometimes deadly. Wednesday is her mother's daughter. The house is a wreck, of course, but this is a house-proud family just the same and every trap door is in good repair. Money is no problem.
© and ™ Tee and Charles Addams Foundation.

Released October 18th, 2019
from MGM Studios & Cinesite



Voice Cast: Charlize Theron, Bette Midler, Oscar Isaac, Chloë Grace Moretz, Nick Kroll, and Finn Wolfhard in The Addams Family (2019)

Distributed by&: Metro-Goldwyn-Mayer
Production company: Cinesite; & Nitrogen Studios
Directors: Conrad Vernon & Greg Tiernan
Executive Producers: Andrew Mittman and Kevin Miserocchi
Producers: Conrad Vernon, Gail Berman and Alex Schwartz

Special thanks to: Kevin Miserocchi Executive Director of the Tee & Charles Addams Foundation
Addams Family Behind the Scenes
Time Magazine's audition photos.

(click to open a new page)
---
Addams Family Pinball Game App
Here links to where people can purchase the table now:
iTunes (iOS): https://itunes.apple.com/us/app/pinball-arcade-free/id497189134?mt=8
Google Play: https://play.google.com/store/apps/details?id=com.farsight.AndroidPinball.javaProject&hl=en
Amazon App Store: http://www.amazon.com/FarSight-Studios-Pinball-Arcade/dp/B0084HDG8Y
Steam (For PC and Mac): http://store.steampowered.com/app/238260/
PS4 version should be releasing mid March
Mike Lindsey
Community Manager|
FarSight Studios
---
---
---
Amazing Sculpture


Greg Maraio sent these wonderful pictures of a recently completed
sculpture of Mortica Addams. The likeness is incredible.
The makeup was done by Dash and Dazzle.
Contact Greg at GVmaraio@aol.com

Addams Family Themed Cartoon from
Scott Hilburn's The Argyle Sweater

See more The Argyle Sweater

<!NEWS2>

Original Art by Bob Bentovoja

Bob worked for the studios during the 1960's and 70's. He produced works based on many of the TV shows on the air during that period. Thanks to Greg for connecting with AddamsFamily.Com and bring us a piece of TV history.
Copyright &copy Bob Bentovoja

Bob also provided information about the Giraffe in the Suit portrait that hangs on the set.

The painting was done by Karl Hubenthal.
Take a look at the
Karl Hubenthal site.

(opens in a new window)
Return to top <!NEWS3>
---
YouTube Treasures

Lurch on Batman


Return to top <!NEWS4>
---
Google Honors Charles Addams 100th Birthday

This doodle ran for 24 hours on January, 7th 2012. The banner appeared on Google's sites in Austrailia, United States and England.


click on image to view an animated video posted on YouTube
(opens in new window)


Read more:
Washington Post: CHARLES ADDAMS GOOGLE DOODLE: Spooky 'Addams Family' logo celebrates macabre ...
PC World: Google Honors 'Graveyard Guru' Charles Addams With Doodle
Houston Chronicle: Addams Family plies its musical charms
NJ.com: Google salutes cartoonist Charles Addams | NJ.com
Cnet.co.uk: Charles Addams celebrated with Google doodle | CNET UK
Wired.com: Google Doodle Honors Macabre Cartoonist Charles Addams on His 100th Birthday
Search Google: Addams Google Doodle

AddamsFamily.Com thanks Google and the Tee and Charles Addams Foundation.
---
The Addams Family Musical
Hits the Road
I recommend that you go to the site for some great historical information about Charles Addams, the Addams Family and some of Charles Addams original cartoons. Meet the cast and see Charles Addams' works presented with narration.
Return to top <!NEWS6>
---
Photographer Richard Fish's widow donates work for Oviatt Library exhibition
Rare Color Photos of the Addams Family TV Sets
One of the most popular displays in the exhibit is of the Addams Family set.
�I have seen quite a few students looking up at all the photographs and especially at the Addams Family photo�s, everybody remembers that show,� said Marianne Afifi, associate dean at the Oviatt Library.
It has images of the different sets and characters from the black-and-white TV show. This assignment for TV Guide magazine allowed the public to see the show in color for the first time.

Excerpted from the Daily Sundial by Marina D. Sandoval, January 27th, 2011

The Richard Fish exhibit was scheduled to run from Nov. 1, 2010 through January 30th, 2011

Thanks to Robert Stone

Return to top <!NEWS7>
---
Cousin Itt Sounds from David Robert Wooten
Itt.mp3
Thanks to David for submitting these samples.
Return to top <!NEWS8>
---
Vic Mizzy, composer of the Addams Family Theme passes at age 93.
October 20, 2009.
You may not know Vic Mizzy's name, but you know his works. Vic Mizzy wrote many of the iconic TV themes of the 1960s and 70's.. Perhaps his most memorable theme song is The Addams Family theme, he also wrote the theme for Green Acres, starring Eddie Albert and Eva Gabor. Vic Mizzy also scored many of Don Knott's movies. AddamsFamily.Com sends our condolences to the Mizzy family and friends.

Read his obituary from the LA Times:
http://www.latimes.com/news/obituaries/la-me-vic-mizzy20-2009oct20,0,1713293.story
Vic Mizzy Jan. 9, 1916 - Oct. 20, 2009
---
<!NEWS9>

Addams Family Musical Announcment


The Tee & Charles Addams Foundation
http://charlesaddams.com
Press release: http://www.charlesaddams.com/news2.html
Elephant Eye Theatrical http://www.elephanteye.com/
---
<!NEWS_NO_LINK>



| | | |
| --- | --- | --- |
| | | |
| volume 1 | volume 2 | volume 3 |
Check your local video store
Addams Family DVD Set Details
Updated 08/07/06

The Addams Family TV Series has been released in 3 volumes. You can buy them individually or as a box set.
The first volume will contain 20-22 episodes and a bonus disc.
Look for Volume 1 to be release Tuesday, October 24th.

The Addams Family TV series will be on DVD.
These will be the only officially licensed set of DVDs.

If you find DVDs available on the web, please notify jon@addamsfamily.com or the Tee & Charles Addams Foundation at info@addamsfoundation.org
Thanks to Joseph Van Patten and to the

Enter the Gift Shop
and show your appreciation of Charles Addams' work.
---

08/27/06
Addams Family DVD Publicity Photos
These are high quality scans that have been provided by Fox Home Entertainment.
Please do not distribute, sell, reprint, or otherwise use these images for any commercial purposes without the express permission of Fox Home Entertainment.

They are intended for the personal enjoyment of Addams Family fans.

Thank you to Fox Home Entertainment for providing these images

For rights and permissions contact:

Fox Home Entertainment
2121 Avenue of the Stars, #3047
Los Angeles, CA 90067
---
Book News & Reviews

<!BOOKREVIEWS>

New Book
The Addams Family: Eviloution


Pomegranate Press
<!BOOKREVIEWS>
Doug Ogg of Ogg's World (click to visit Ogg's World)
Has written a review of a new biography of
Charles Addams by Linda H. Davis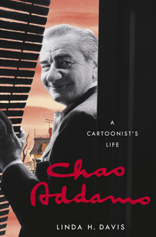 Click to view the cover (1MB graphic)


Read Doug's Review
I finished reading it and I recommend it to all Addams Family fans.
- Jon Davis, Webmaster, AddamsFamily.Com

Listen to an interview with Linda H. Davis conducted for Afternoon Magazine on WILL-AM radio. 10/24/06

<!/div>

<!div align="center">
Addams Family Movie

Train Layout
Thanks to Mr. Monster for providing this image.
Click on the image to open in a new window
<!div align="center">

A bio of Charles Addams Written by Ron MacCloskey, from Westfield, New Jersey, Charles Addams home town.
Opens in a new window.

Addams Family Video Slot Machine
from International Game Technology (IGT).

IGT has released a new Video Slot Machine based on the Original series. Look for it on your next trip to Las Vegas, Atlantic City or where ever gambling in legal. I'd love to have one for my game room.


Rate The Unofficial Addams Family World Wide Web Site at Zeal.Com

<!/div>
<!/TABLE> <!/div>

<!div align="center">

<!div align="center" style="width: 603; height: 1161">

<!div align="center"> <!/div>

<!/TABLE>
<!div align="center">

<!div align="center">

<!/div>

<!/div>

<!div align="center">

Copyright &copy 1995, 1996, 1997, 1998, 1999, 2000, 2001, 2002, 2003, 2004;2010
Jon A. Davis.
All rights reserved. All copyrights and/or trademarks belong to their respective holders.
The content of this site is intended for personal ejoyment.
Thanks to the Tee and Charles Addams Foundation for their support.

<!/div>

<!/div>

<!/div> <!/div>